Welcome to Legacy Mountain Labradors
Legacy Mountain Labradors is located an hour and a half east of Seattle, between Cle Elum and Ellensburg, Washington. We are a small hobby breeder specializing in AKC Yellow Labrador Retriever puppies for hunters and families.
Breaking from the trend of focusing on either "show" OR "hunting", our goal is to blend the best of both into that big, beautiful lab you used to find - that loving dog that would hunt its heart out and then come home happy to lie at your feet or play gently with the kids.
We breed to produce dogs that are beautiful enough to make you proud, healthy enough to impress your vet, smart enough to be the head of obedience class; athletic enough to win in Agility -- who will do anything to please you – dedicated to being your best friend, and still be the hard working hunter that will make your buddies stinkin' jealous.
Our buyers tell us we are doing all that - many have come back for a second pup! We raise only a few litters a year to enable us to give them all the loving care they need.
Our Girls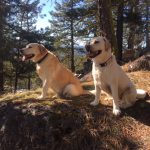 Our Super Moms Honey and Lilli Honey and Lilli are litter mate sisters, retained from Kali's final litter in 2016.  They have each given Read More
Family Yellow Labs on Facebook
What's new?
After searching long and hard for 14 months I have found wonderful sires for our new generation! See the Puppy page for more information