Our Super Moms
Honey and Lilli (retired/reference)
Honey and Lilli are litter mate sisters, retained from Kali's final litter in 2016.  They have each given us outstanding puppies sired by Tuff, and are retired.  Honey is staying here to be my bodyguard, while Lilli is happily living in a new family, playing with 2 boys and jogging with the parents. I compared them to Bridget and Ginger from Gilligan's island, since Honey is the tall, elegant, serious beauty, and Lilli is the cute, bubbly, playful personality. Each stamped their babies with their look and personality–having pups excelling as hunters, service dogs, and beloved family members. Contact me for more pictures, health documents and comments/photos from owners of their kids.
---
Honey – Certifications
Registered name: Hanalei Honey At Legacy Mtn Ranch
Birthdate: 8/25/2016
Call name: Honey
OFA Hips: LR-236065E24F-PI Excellent
OFA Elbows: LR-EL85995F24-PI Normal
OFA Eyes: LR-EYE15793/43F-VPI Free of any observable inherited eye disease -rechecked annually
OFA Heart: LR-ACA 1018/24F-VPI Echo Normal
DNA TESTS: CNM Clear, EIC Carrier, PRA Carrier (Pups cannot be affected)
Honey has a classic head, broad base, level nose, good pigment. Very strong square stance, most athletic, balanced dog you'll find (jumps like a deer whether I like it or not!) perfect "cat paw" toes, correct coat, good otter tail
Honey stands 23.5″ tall, healthy weight 78#   Honey is an intelligent, faithful guardian-for both me and the ranch.  If I have a concern, she is the one I keep close. I'm pretty sure she thinks she's human…she "tells me" when something is not up to par!!

---
Lilli – Certifications
Registered name: Lilliwop lady At Legacy Mtn Ranch
Birthdate: 8/25/2016
Call name: Lilli
OFA Hips: LR-236086G24F-PI Good
OFA Elbows: LR-EL86013F24-PI Normal
OFA Eyes: LR-EYE15798/43F-VPI Free of any observable inherited eye disease -rechecked annually
OFA Heart: LR-ACA 1021/24F-VPI Echo Normal
DNA TESTS: CNM Clear, EIC Carrier, PRA Carrier (Pups cannot be affected)
Lilli has received high compliments from a show judge (serendipitous meeting at the Vet)  an elegant head, with exotic "Egyptian" eyes, good pigment, thick coat, lovely otter tail. Stands a stout 21″ tall, healthy weight 69#   She is pure love and snuggles in her gentle, sweet way, full of play and enthusiasm. My grand daughter owns her daughter Malia in Hawaii.

---
Polly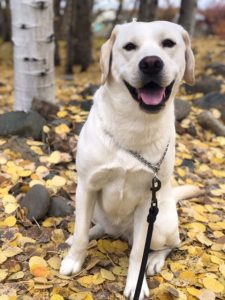 Polly, our 2019 Pinny/Tuff daughter is a quiet, sweet, athletic girl, confident, and a good hunter. Polly lives with a neat young Guardian couple who hike, boat and hunt with her in the Boise area. She lives to please her people.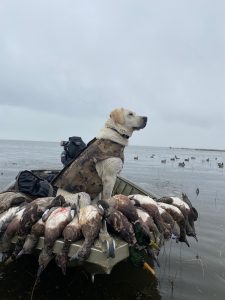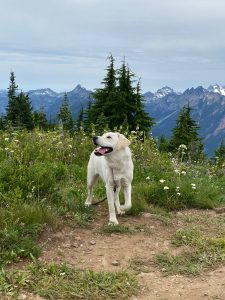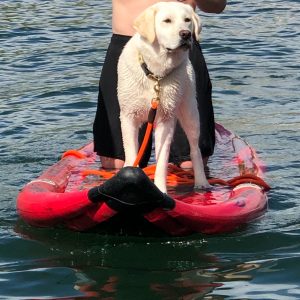 Polly – Certifications
Registered name: Poliahu Paradise At Legacy Mtn Ranch
Birthdate: 6/20/2019
AIS PennHip: DI 0.41 (better than average) done 12/15/2020
OFA Eyes: 4/09/2021 Normal Free of any observable inherited eye disease -rechecked annually
OFA Heart: 4/09/2021  Echo Normal-Cardiologist
DNA TESTS: 1/04/2021  Paw Prints Genetics Labrador Retriever breed panel: Clear/Normal everything,  B Locus= B/b
Polly has a beautiful head, nice black pigment of nose + around eyes, the long legs we bred for, with a correct coat and a nice otter tail.
She is about 22″ tall, healthy weight is about 72#
---
Pinny-reference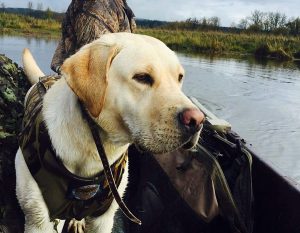 Pinny retired in 2019.  She gave us 2 litters from Reveille and 2 from Tuff–all so beautiful and smart!!Pinny is from our first Kali/Bo mating in 2013, which produced such beautiful pups we repeated that mating 3 times. Bo is a Grand Champion son of CH Ghoststone's Louie Downtown, a highly sought after bloodline. Pinny has a beautiful head and the nice leggy type we breed for, stands 22" tall at 68#. She lives with her own family in Olympia, WA who also own her big brother. Their 'mom' is a Veterinarian and 'dad' a hunter/trainer. Her personality is curious, playful, and smart—she definitely keeps life interesting! She is doing very well as a hunter and is a fast athlete.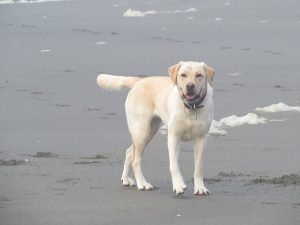 Registered name: Prairie Star Pixie at Double D Ranch
Birthdate: 3/17/2014
Call name: Pinny
ACK Registration Number: SR82096701
OFA Hips: LR-219855G24F-VPI Good
OFA Elbows: LR-ERL72150F24-VPI Normal
OFA Eyes: LR-EYE9124/23F-VPI Free of any observable inherited eye disease -rechecked annually
OFA Heart: LR-CA9116/23F/C-VPI Normal-Cardiologist
DNA TESTS ID: #110778 EIC Clear, CNM Clear, PRA clear

---
Kali Kelani-our foundation Matriarch (reference)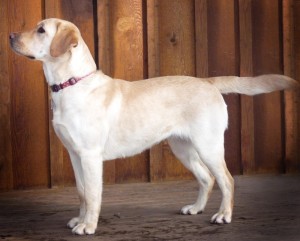 Kali was top pick from our first mating of AM Can CH Timberline Big Ben SH RN "Ben" and Molly (see below). Don Ironside of Fawnhaven Labradors helped us choose her. Kali has grown to be everything we we hoped for—a solid athlete that can run behind us on long trail rides without tiring (but knows when to stay with us) with an amazing intelligence and personality.
Her drive to hunt and retrieve is superb. She has a great nose and won't quit a search. She is fearless, to the point of treeing and holding a cougar January 2011 and again July 2020, a few months before she passed. Every one of her hunting brothers and sisters get high compliments from buddies and guides.
Kali is beautiful in every way. Her length of neck and strong shoulders are balanced by strong hindquarters. Her overall impression is that of a muscular build with power and fluid movement. Her head is blocky and broad, with a nice stop, set off by those gorgeous big eyes. She has a thick otter tail, carried naturally low. She is mellow and loving; her passion is to be close to her people and she is wonderful company when you just need a quiet friend to sit with. She is an intelligent, a quick learner, and stands approx. 24 1/2" tall and weighs 85#.
We have 32 dogs from our Ben and Molly cross, which gives us a strong track record and tons of information. No health problems, superior performance, fantastic family/ people/ hunting dogs. This was that elusive, golden cross of genetics.
Call Name: Kali
Color: Yellow
DOB: February 29, 2008
AKC#: SR48031201
Hip OFA: LR-1186200E24F-VPI (Excellent)
Elbow OFA: LR-EL46451F24-VPI (Normal)
Eye CERF: LR-57664/2010—25 Clear, even at Age 8
CNM Clearance #: LR-CMN10-722-F-PIV Clear
Cardiac OFA #: LR-CA4627/90F/C-VPI Clear
EIC #: D10-047287 (E/N) Carrier-NOT affected
PRA: Clear (both Paw Prints and DDC Vet genetics)
Kali retired in 2016 after giving us 4 wonderful litters. Her pups are just as beautiful, intelligent, loving, and trainable as Kali and her Molly/Ben siblings proved to be. She became the wise, solid rock Grandma, who loved on all puppies, no matter who the mom was.  She will always exemplify the standard for what we strive for in looks and brains.  All our females come from her!
---
Sweet Saddie Sunshine-reference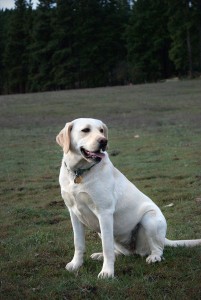 Our Sweet Saddie has Kali's strong build, only just a little bit more refined. Same muscular look, good bone, big expressive eyes, set off by her light, white tone coat color. Her personality is submissive and playful, eager to please, very gentle & tolerant with little children—a quiet, fun friend that I discover sitting beside me when I'm busy.  Her hunt drive is very strong—yet she is obedient to listen—just like her parents!  She stands 24 " tall and weighs 78#
We're sad to say Saddie had an emergency C-section with her first litter, and could not have more pups.  She is enjoying being an only dog with a loving retired couple. She loves the travel and stands ready at 'shotgun' on road trips. We co-own her only daughter, Sahara, who will have a litter in 2019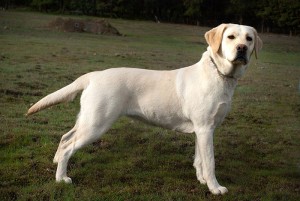 Call Name: Saddie
Color: Yellow (white tone)
DOB: January 2, 2013
AKC#: SR75988901
Hip OFA: LR-212537G24F-VPI (Good)
Elbow OFA: LR-EL66107F24-VPI (Normal)
Eye OFA: LR-5977/25F-VPI (Perfect "free of observable inherited eye disease")
CNM: Clear
Cardiac OFA #: LR-CA8661/32F/C-VPI-Echo (Normal)
EIC #: D13-046332 Clear
---
Molly Dolly Golden Sunrise-reference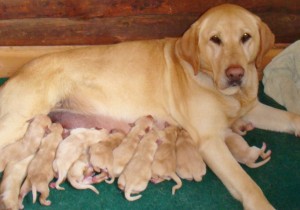 Our beautiful, loving Molly got us started in AKC Yellow Labs. She is a big strong girl, standing 24" tall, weighing in at 75#. She has a beautiful blocky head, large kind eyes, well-proportioned with good bones, has a strong hunt drive, yet is balanced by a very calm and mellow personality. Her priority in life is to be with her people, and she just plain loves everyone. She is OFA certified Good hips, Normal elbows, good hips and CERF clear eyes (current each year and still perfect at age 8).
She is the best and easiest breeding female imaginable—she mated and gave birth easily, never a problem. She raised fat and happy babies that had more than enough milk and tons of nurturing to keep them content and clean. Even right after delivery, Molly welcomed admirers, her pups learned to love contact with people of all ages.
Molly has raised 5 litters for us and is now retired. Her quality shines in every single pup. They are cherished for their gentle, mellow and loving personalities, their beauty, and their love of the hunt. Molly was mated with 3 different stud dogs, but her pups are amazingly consistent in look and temperament. That consistency is hard to find in breeding—and I repeat, is the utmost mark of quality.