Making Puppies isn't as easy as one imagines.  I go the extra mile, literally, to work with a leading Canine Reproductive Specialist in Lakewood.  Dr. Cynthia Smith is my amazing 'security blanket' and advisor for successful, healthy litters.  Both Stud and Bitch owners now run many expensive DNA tests and medical clearances on their dogs. You get valuable information on the genetics of a puppy and you have less risk of tragic genetic problems.  These 'Good Breeder' standards, plus Covid, have raised our costs significantly.  Contact us for the current pup price.  Once you pass our screening, a $400 non refundable deposit will hold a spot on our wait list. Due to the unpredictable nature of breeding, we cannot guarantee gender. Meaning we cannot count our puppies before they hatch!!   I encourage everyone to be flexible on gender.  And to plan ahead to get in a good position on our wait list.  My advise is to: 1) find a good breeder whom you want to work with & who has dogs with the look/talent you want. 2) be willing to wait if needed (experienced dog buyers plan up to 2 yrs ahead to get exactly what they want).  Having said all that, I work very hard for success-both for good breedings and YOUR happiness.  If it turns out we wont have a pup for you, THEN I WILL quickly refund your deposit so you can look elsewhere.  We are happy to provide tons of information, pictures, and references from past buyers to help you make this important decision.  Homes are carefully screened to help you and the pup succeed together. Since we know the pups so well, we can help you choose which pup fills your needs best. This also means we will give priority to Hunter and Service dog homes, who use specific aptitude tests.  Think of it this way, a dog with strong drive and energy to hunt, wont fit well in a home that needs a quiet couch potato.  And a good Service dog requires a particular type of thinker/caregiver. We continue helping as needed when you get home, and as your pup goes thru new stages.
Our pups sell fast and we encourage you to put down a deposit early. Deposits are taken in order by the gender you prefer. You will choose your pup by the order of when you placed your deposit. Its like dominoes, if you are first in line, you can choose first pick of the gender (male or female). We encourage you to stay flexible in your expectations, since we don't know what we'll get in our litter. Many families have gone home with the opposite of what they thought they wanted, and been thrilled with their dog!
Don't be discouraged if you are not first in line—we are constantly amazed how the right pup always goes home with the right family. Somehow it just works out. Often the pup we would consider first pick goes to the family last in line… God looks after little puppies too!
The balance is due in full (cash or bank cashier's check only) when you come to pick up your puppy at approximately  7  to 8 weeks old.
You will receive your AKC registration paperwork, our written Guarantee/Bill of Sale and puppy care instructions, a packet with the parents' Registration, Certificates, Clearances, and pictures. If needed, we we will provide 4 days food supply to assist your transition to the quality food of your choice. We also help you take home the scent of the mother.
AKC Limited Registration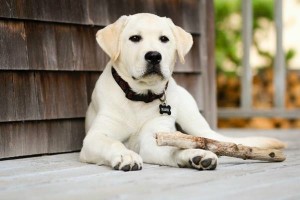 In order to preserve quality in the breed, and in accordance with Puget Sound Labrador Retriever Association policy, all pups are sold with a Limited AKC Registration. This means you can do anything you want with your dog and compete in everything except Breed shows with this limited registration. However, you can NOT breed your dog without Full Registration or the pups cannot be registered with AKC. If you are interested in potentially breeding your dog, special arrangements must be made and approved once your dog is 24 months old and has passed all health clearances and documents provided to us.  This is a strict requirement for all ethical breeders.
We continue to provide support and help in any way possible. Our pups are sold with the provision that we will always take the dog back if life changes and there is a need, so we can insure our pups' continued well-being. This does not include a refund, but we will use our experience and connections to find a happy new home for your pet.