Current Sires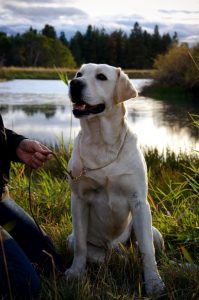 LaBrook's Last Action Hero  aka "TUFF"  joined our dog family in July 2017 at age 6 1/2.   He's given us wonderful litters, producing gorgeous pups that speak to his solid breeding. Tuff has the taller look we go for, a lovely head, and the 'Home Boy'  gentleness that makes him a sweet dog to live with.  His pedigree is a combo of English and Swedish imports, along with 2 highly accomplished AKC Show Champion/ Master Hunter grand sires.  Plus he is a Ben great grandson with some extra Charlie on top of his pedigree! Perfect Health Clearances in every way–OFA hips Excellent, eyes, heart, all DNA tests CLEAR. No allergies.  Super Dog sperm counts everytime, even at almost 10 yrs old.  Pictured above is his litter of 13 with momma dog Sahara November 2019
  After a superb career of producing beautiful pups, Tuff has retired to his new home loving a 10 yr old girl. 
We do have frozen semen with excellent numbers available from ICSB.   Contact us for details

---

---
Reference Sires (retired)
Molly and Kali had beautiful pups sired by Int CH Mtn Star Rolling Thunder JH, RA and Grand CH Mt. Star Bodacious One JH,WC "Bo". These brothers brought in the good old bloodlines of champions and titled Hunters from all around the world, with grandparents who were Champions in England, France (plus 5 other continental European countries), Japan and of course here in the U.S. Though they have different sires, both are sons of the lovely Int CH Mountain Star Ice Storm, JH, CC, CD. Thunder was a working dog, being Barb's diabetes service dog and Bo swept the show ring to achieve his Grand Championship.  Bo's litter mate 'Rice' is a well known National Champion in Agility. Please see their links at http://www.mountainstarkennel.com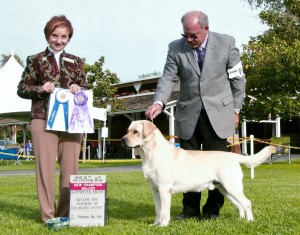 Bo and Thunder sired litters with both Molly (1 time with Bo) and Kali (Thunder X2, Bo X2) with amazing results. Like the old adage says: "The Proof is in the Puddin'" so take a look at the pictures
---
Ben
Our Amazing Foundation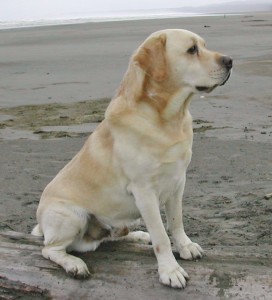 Am Can CH Timberline Big Ben At Fawnhaven SH RN (Kali's sire)
Ben's sire French Champion  Charlie Chalk (Kali's granddaddy) Website 
English CH, Rocheby Royal Oak    http://www.rochebylabradors.co.uk/royaloak.html
Both Charlie Chalk and his sire Royal Oak represent the very best of English Labradors
Ben and his sire Charlie are the foundation of our breeding program. Ben puts the magic into our puppies!! His quality and intelligence, combined with Molly's size and their acute hunt drive with a people-loving personality is what makes our dogs so great! Ben's International Championships and Senior Hunter speak for themselves. Ben was absolutely gorgeous, with very good movement; square, strong and well-balanced, one of the most beautiful heads you will find. He was a sturdy boy at about 85 pounds and 23 ½" tall. He also produced one of the few combination AKC Show Champion/Master Hunter Labradors.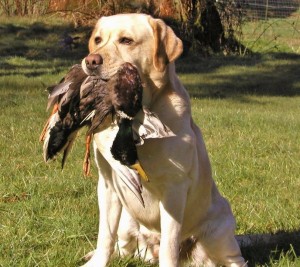 Ben's sire Charlie was the premier dog in continental Europe in all breeds—repeated best of show and national championships—check out his link above. Plus, they can HUNT! The best word for Ben is Noble—it was a privilege to have such a high quality sire to get us started.